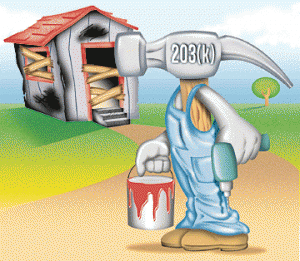 What is a Streamlined (k) loan?
A Streamlined (k) is a limited repair program offered by FHA. Repairs may be no less than $5000 and total funds required, including contingency fund and required fees associated with the program, may not exceed $35,000. The program allows you to finance the cost of repairs into your mortgage before construction begins.
What are the basic features of the 203k streamline?
FHA guidelines apply
Opportunity to borrow against the value of the home after improvements
Flexible credit qualifying (minimum credit score 620)
Owner occupied 1-4 unit properties, PUDs, condos (with restrictions), and REO properties
Work can be completed by one contractor, several contractors, or borrower (borrowers may not complete repairs in Texas)
REO's, foreclosures, and short sales
Incomplete renovations
Out-dated kitchens, bathrooms, etc.
Improve instead of move using our 203k streamline refinance
Purchase and replace dated appliances, including free-standing stoves and refrigerators
What type of repairs can I make to my home?
Generally, repairs which are non-structural in nature, such as roofing, HVAC systems, flooring, painting, and window and door replacements may be financed with a Streamlined (k).
How much time do I have to complete repairs?
Repairs must start within 30 days of closing and be completed within 6 months.
What do I have to do to start the process?
Envoy requires that you obtain bids from your preferred contractors using the Contractor's Estimate form given to you by your loan officer at application. Your contractor, in turn, must complete and sign the estimate and return it to you along with client references and a "resume" of their work experience. Forward these documents to your loan processor. Your loan processor will review the contractor's work history and verify references. Assuming that the contractor is acceptable to Envoy, we will obtain a IRS Form W-9 from your contractor and ask you to sign the bid, indicating your acceptance of the amount and the work to be performed.
Can I do the work myself? **
You may complete work for which you can demonstrate expertise and experience. Any work requiring a construction permit requires that you have a license in that field. You must complete a bid estimate, just as a contractor would, and maintain records and receipts to document the progress and cost of the work.
**If you live in Texas, you must use third party contractors for all work.
What happens at closing?
Your closing package will contain several documents related to the rehabilitation work you plan to complete. In addition, if you live in a state where liens are typically filed by contractors against your property, the closing agent will provide you with a package from Envoy that contains the required Release of Lien forms, along with instructions on how to complete those forms and where they must be filed.
How do I obtain funds to start construction?
After closing, Envoy turns these loans over to a lender who specializes in rehabilitation lending. Once the lender purchases your loan, a process that may take as long as two weeks, you'll receive a Welcome Package within 7 – 10 days. 50% of the construction funds will be sent separately at that time. This means that you will typically receive funds to begin construction within three to four weeks of loan closing.
How are the funds sent to me?
Funds are sent to you by mail and cannot be transferred into your personal bank account. If you are using an outside contractor, the check will be issued jointly to you and your contractor. If you are completing a portion of the work yourself, the check will be issued directly to you for that portion.
How many times can I request funds during the course of construction?
There are only two payments made during construction. 50% of the funds are sent to you prior to the beginning of construction, and the balance is sent once construction is complete.
What should I do when construction is complete?
You will complete a form provided to you by the rehabilitation lender called "Mortgagor's Assurance of Completion" and fax it, along with receipts and invoices, to document that the work is complete. The lender will conduct a title search to verify that there are no outstanding liens for construction and, if your rehabilitation cost was more than $15,000, will coordinate with you to order a final inspection. Once these items are complete, final funds will be mailed.
If you live in state where the contractor typically files liens against the property, you will also need to file a completed Release of Lien in your county of residence and provide proof of that release to the rehabilitation lender. Envoy will provide you with forms and instructions at closing.
Your Welcome Package will explain, in detail, what you must do to close the rehabilitation period and receive the final check.
What happens if there are not enough funds to complete the construction?
Your contingency fund can be used to cover some or all of the shortage, but any additional funds must be paid by you out of pocket. This is why it's so important to obtain the most accurate estimates possible during the loan process.
What happens if there are funds left over after construction is complete?
Any remaining funds will be applied to the principal balance of your mortgage.
What should I do if there are delays that require me to exceed the six month construction period?
Notify the rehabilitation lender immediately! At their discretion, they may be able to work with you to extend the construction period.
Specifically, what types of repairs are eligible?
Repair/replacement of roofs, gutters and downspouts
Repair/replacement or upgrade of existing HVAC systems
Repair/replacement or upgrade of plumbing and electrical systems
Repair/replacement of flooring
Minor remodeling that does not involve structural repairs
Painting, both interior and exterior
Weatherization, including storm windows and doors, insulation, etc.
Purchase and installation of appliances, including free-standing ranges, refrigerators, washers/dryers, dishwashers, and microwave ovens
Accessibility improvements for persons with disabilities
Lead based paint stabilization or abatement
Repair, replacement, or addition of exterior decks, patios, and porches
Basement finishing, remodeling, or waterproofing that does not require structural repairs
Window and door replacements and exterior wall re-siding
Repair/replacement of septic systems and wells
Specifically, what types of repairs are NOT eligible?
Major rehabilitation or remodeling, such as relocation of a load-bearing wall
New construction, including room additions
Repair of structural damage
Repairs that require detailed drawings or architectural exhibits
Landscaping or similar site amenity improvements including pools
Improvements that require a work schedule of longer than six months
Improvements that require a payment schedule of more than two payments per contractor
Improvements that result in work not starting within 30 days of loan closing
Improvements that require the homeowner to be displaced from the property for more than 30 days (Generally, the property should be habitable immediately after closing.)
How does "Streamlined (k)" differ from a regular FHA 203(k)?
Structural improvements, such as room additions, are not allowed under "Streamlined (k)" but are allowed under 203(k)
There is no limit on the repair amount for a 203(k)
Draws may take place over several months rather than being limited to only two draws
A 203(k) consultant is required to work with the borrower and contractor to ensure that improvements meet FHA requirements
In short, a "Streamlined (k)" is streamlined with respect to the process and the duration and type of repairs made
Do you offer a regular (full) 203k?
Envoy Mortgage does not offer a full 203k product at this time.
Can I do the work myself?
Yes! However, for all repair work to be completed by the borrower under a Self-Help Agreement, the following is required:
Evidence that he or she is competent to complete the work
If permits are required, evidence that borrower is a licensed contractor in the specific field for which repairs will be completed
A written cost estimate of supplies and equipment
Copies of bids from licensed contractors to support cost estimates
Evidence of sufficient cash reserves or credit to fund repairs subsequent to initial disbursement through final disbursement of escrowed funds
A minimum 10% contingency posted to the escrow account (which may be financed)
Documentation of actual costs and lien waivers, just as with a general contractor
What is a "contingency reserve"?
The contingency reserve is added to all "Streamlined (k)" loans. A minimum of 10% of the cost of rehabilitation is financed into the loan amount. The maximum amount of contingency reserve is 20%.
The reserve is:
Used to cover health, safety, and unplanned issues that arise during construction
Is not available to make additional improvements
Applied to principle once improvements are complete and the final draw is disbursed
A 20% contingency reserve is always required if the utilities are not turned on for inspection when the property is appraised